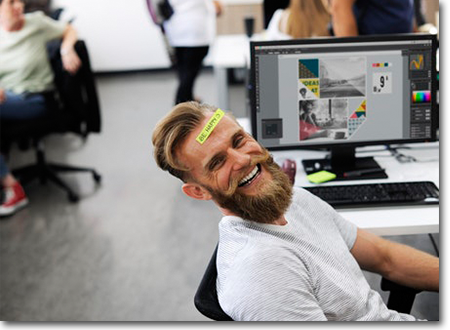 Satisfied Employees is what your organization needs
Have you ever wondered if your employees were happy at your workplace?
What does Employee Satisfaction mean?
Employee Satisfaction refers to whether your employees are contended, happy and fulfilling their needs and desires at work. Many studies have supported that, employee goal achievement; positive morale and motivation in the work place are highly affected by their level of satisfaction. It is the result of the employee's affective reactions, when they compare what they actually receive with what they want to receive.
Many professionals in the HR field would agree that employee's happiness or what the employee actually feels about her/his career development opportunities, work environment, compensation & benefits directly affects her/his satisfaction.
Why is it important to care about your Employee well-being?
The satisfaction of the employees who represent the company is directly linked to the company's success as many studies have showed a 50% reduction from norms in turnover in businesses that excel in employee satisfaction, an approximate increase of 95% in customer satisfaction and a decrease of 12% in labor cost.
In addition, Customer satisfaction leads to customer loyalty and it directly stimulates profit and growth. Customer perceptions of the service value they receive strongly affect their satisfaction, while this service value is usually created by productive, loyal and satisfied employees.
Employees who have the willingness and ability to deliver a value that meets their customer expectations are those who feel a sense of common purpose and teamwork, as well as strong managerial empowerment and communication commitment.
Employees who are more involved in their organizations, work harder and are more dedicated to delivering high quality service levels are those who are satisfied with their jobs. The relationship between customer satisfaction and employee satisfaction was explained by Heskett, as an analogous to a satisfaction mirror.
What to do to measure your employee satisfaction?
One of the easiest and most obvious techniques is a profound observation of employee reactions; it is as easy as walking around in the office watching employees interacting with one another, working and informally talking to them while observing whether they are energized, smiling, cooperative and attentive or inactive, listless and unsupportive?
You can also employ a third party – a professional consultant – to evaluate the work atmosphere compare to other organizations by taking the observation to a new level, where the employees are requested to fill in attitude surveys and the results could be analyzed to evaluate and conclude the employees motivational factors, thoughts and attitude.
Another way to measure your employee satisfaction is to get an honest and clear feedback from employees who are already leaving your employment. This is achieved by conducting an Exit Interview, where a Human Resources person meet with terminating employees and ask them certain questions reflecting back on their level of satisfaction inside of your organization.
Considering your employees satisfaction will not only reflect back on their wellbeing, but on your organization's success as well!